Nappanee Public Library and The Evelyn Lehman Culp Heritage Collection Present Night at the Museum: Industrial Nappanee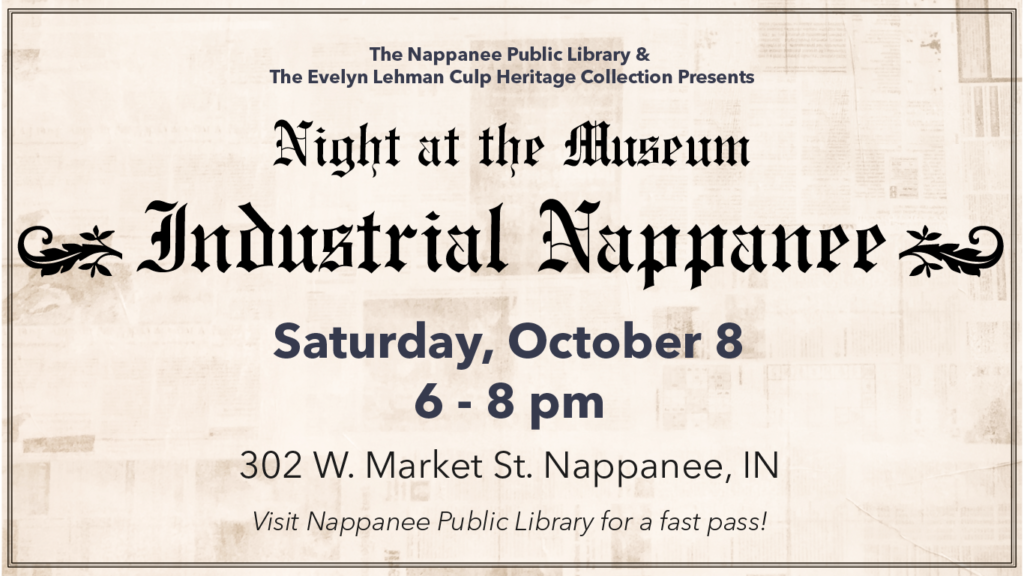 Saturday, October 8, 6 – 8 pm
Nappanee History comes to life when the lights go out. On October 8, 2022, from 6 – 8 pm, The Nappanee Public Library and the Evelyn Lehman Culp Heritage Collection will present the 11th annual Night at the Museum: Industrial Nappanee. This production is a lights-out, after-hours tour of the Evelyn Lehman Culp Heritage Collection at the Nappanee Center, located at 302 W Market St. Nappanee, Indiana.
During the tour, guides will take you on interactive flashlight adventures through the museum, with live actors portraying the parts of Nappanee citizens. You will learn more about the town of Nappanee and its residents during the industrial boom in the early 1900s. The script for Industrial Nappanee, written by Martha Owen, Heritage Collection Manager at Nappanee Public Library, was based on the 1905 magazine called The Industrial Nappanee.
Don't wait in line! Call or visit the library from October 7-8 to reserve your tour time and receive a fast pass.