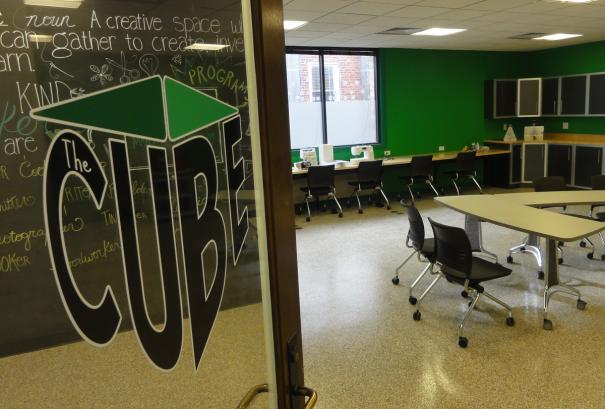 What is the Cube?
The Cube is the Makerspace at the Nappanee Public Library where you can learn and use new technologies and equipment you may not have access to. Start a project, finish an old one, meet other makers, learn a new skill or technique and collaborate on projects.
Who are Makers?
Makers are people who make things from anything around them. Made a costume for a school play? You're a Maker. Made a web site? You're a Maker. Made something from recycled materials? You're a Maker. Made something to be printed from a 3D printer? You're a Maker!
Anyone and everyone can be a Maker; you just need to have a creative spirit, some passion and a willingness to learn.
What is in the Cube?
In the Cube you'll find a 3D printer, 3D scanner, 3Doodler, an iMac computer with full Adobe CC suite, a Wacom tablet, a Silhouette Cameo digital cutter, sewing machines, a serger, a VHS/DVD recorder, a die cut system, a spiral binder, a laminator, a button maker, an opaque projector and laptops.
Where is the Cube?
The Cube is located in the Nappanee Public Library near the Main Street entrance.
What are the Cube hours?
The Cube opens 30 minutes after the Library public spaces and closes one hour before the Library, to ensure that equipment is ready for use and projects are completed in a timely manner.
| | |
| --- | --- |
| Monday-Thursday | 9:30 am – 6:00 pm |
| Friday-Saturday | 9:30 am – 4:00 pm |
| Sunday | Closed |
| | |
Who can come to the Cube?
Anyone can come to the Cube, however, there are some things you should know before coming:
To use any of the equipment, you must have a signed waiver on file. Waivers are available at the Reference Desk.
Children under the age of 12 need to have a parent or legal guardian with them at all times.
No open-toed shoes, please! Some of the materials and equipment we work with could hurt your toes if they were exposed; we like you to have as many digits when you leave as when you came in.
No loose-fitting or dangling pieces of clothing. We don't want your favorite shirt getting caught in machinery.
Tie back long hair. We wouldn't want your hair getting caught in machinery any more than your favorite shirt.
How can I become certified?
Several pieces of equipment in the Cube require certification. They are the sewing machine, the serger, the 3D printer, the heat press, and the laminator. NPL offers introductory courses/training on these tools. Once you complete the training and sign the waiver, you become certified in that piece of equipment or software. You can become certified in as many different technologies as you please, in fact, we encourage it!
For more information on how to become certified please call the library or email media@nappaneelibrary.org
Equipment Use
Adults can book a time to use a piece of equipment independently. Minors between the ages of 16 and 18 can also book a time to use the equipment independently but must have a signed waiver from a parent or legal guardian. Those ages 12 to 15 must be accompanied by a parent or guardian at all times.  Minors age 11 and under may not use the equipment. 
What is the cost?
Workshops are usually free, but advanced registration may be required. Some classes or workshops will require you to provide your own supplies or will have supplies available for purchase.
| | |
| --- | --- |
| 3D Printing/Doodling | 10¢ per gram |
| Binding Combs | 50¢ each |
| Bobbins | 25¢ each |
| Laminating | 2¢ per inch |
| Pin-back Buttons | 50¢ each |
| Prints/Copies B&W | 10¢ each |
| Prints/Copies Color | 35¢ each |
3D PRINTING RESOURCES
Makerbot Website
Makerbot Manual
Make Magazine Online
Thingiverse
Netfabb
Sketchup
Cube Equipment Tutorials